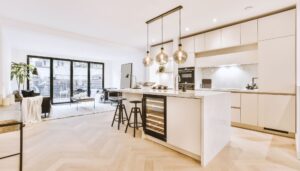 As an experienced developer in multifamily architecture, discovering ways to maximize perceived space and value is always at the forefront of our design plans. Through extensive exploration, we have identified the incorporation of open-concept living areas as a highly effective strategy in achieving these objectives. Embracing this approach can ​​set your development​​ apart in functionality​​ and visual appeal. ​​Moving forward, we will delve into the benefits of open-concept design and unpack essential strategies for its successful execution.
Benefits ​​of Open ​​Concept Living​​ Spaces in Multifamily Architecture Designs
An open ​​floor plan ​​offers multiple ​​advantages for ​​multifamily residences ​​where efficient​​ use of square footage ​​is critical. Eliminating walls between kitchens, dining areas, and living rooms gives the impression of larger, more fluid living spaces without actually adding footprint. Abundant natural light decreases the need for artificial lighting and makes units feel bright and airy. With fewer partitions, the space flows better allowing flexibility in furniture arrangements. Visually, ​​openness adds ​​to the aesthetic​​ appeal and perceived ​​value, which ​​helps attract ​​residents.
More specifically, ​​opening up communal ​​spaces encourages ​​residents to gather ​​and interact ​​more, fostering a ​​sense of community. ​​The flexible ​​flow between​​ rooms also ​​facilitates multi-functional ​​use of the ​​space for entertaining, ​​exercise, work, ​​and ​​more. Open kitchens allow hosts to participate in conversations while cooking. Vaulted ceilings create enhanced vertical space without needing to raise the roof. Large windows and intentional sightlines to the outdoors also makes spaces feel larger. The visual appeal of the openness cannot be understated, as natural light and free-flowing spaces attract potential residents touring the property.
Strategies for Implementing Open Concept Design
Several strategies can be utilized to execute open concept spaces effectively:
Knock down non-load bearing walls to open up main living areas. Consider removing walls between entryways, hallways, and communal spaces as well.
Install large windows, skylights, and glass partitions to draw in natural light. Strategic placement near communal areas is ideal.
Use consistent flooring materials like wood or tile throughout rooms to maintain an open feel.
Raise ceiling height even just 1-2 feet for enhanced vertical spaciousness.
Include communal kitchens or living rooms in student housing to encourage community interaction.
Specify modular furniture like island carts and drop-leaf tables that serve multiple functions.
Critical ​​Design ​​Considerations​​ for Multifamily Architecture
Building codes, ​​zoning laws, ​​and structural ​​requirements should ​​always be taken​​ into consideration. ​​Soundproofing solutions will likely be needed to reduce noise transmission in open spaces. Strategically zone areas for privacy as needed, separating bedrooms and bathrooms. Use lighting, built-ins, intentional sightlines and flooring choices to define spaces within the open layout.
It's important to hire a multifamily architect familiar with open concept design in multifamily projects, as there are many nuances to consider. For example, changes in flooring textures or colors can delineate living room from kitchen. Beam ceilings break up space while still allowing openness. Strategic furniture placement separates spaces efficiently. Glass ​​partition walls ​​maintain light ​​and visibility. ​​Location of HVAC ​​systems and ​​vents impacts ​​layout. All of these ​​details and ​​more contribute​​ to a cohesive ​​open concept ​​design.
Partnering with an Experienced Multifamily Architectural Firm
To execute open concept design successfully, partnering with an architectural firm experienced in multifamily housing is recommended. They ​​can provide creative ​​layouts and material ​​selections to​​ maximize openness, ​​natural light, and ​​functionality within ​​structural limitations. They will also be familiar with the latest building codes and zoning laws for your area. An experienced firm like Ted Trout Architect & Associates can help turn your vision for open concept living into reality.
With smart design choices, you can create small multifamily residences – whether apartments, condos, or student housing – that feel expansive, functional, and perfectly suited to modern living. The perceived value and desirability of your development will benefit. We invite you to connect with us here at Ted Trout Architect & Associates today for a consultation on optimizing space utilization and maximizing your return on investment through innovative open concept design.