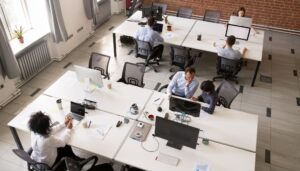 Workplace design has experienced a remarkable transformation in recent years. The conventional paradigm of cubicles and enclosed offices has yielded to the emergence of open, collaborative, and adaptable workspaces. This evolution mirrors the evolving nature of work itself, with a greater focus on mobility, adaptability, and connectivity. As an experienced architectural firm headquartered in Houston, Texas, we have committed ourselves to prioritizing the accommodation of the evolving needs of our clients with versatile and flexible workspaces.
To gain a better understanding of adaptive design, this article will focus on spotlighting the growing ​​need for adaptable ​​and agile workspaces, ​​innovative architectural ​​strategies to ​​enable flexibility, ​​key design elements ​​to incorporate, ​​and the multitude ​​of benefits ​​that adaptive​​ workspace design ​​provides.
The Rise ​​of Agile Working ​​Environments
The rigidity of ​​traditional office layouts ​​does not align​​ with the dynamic​​ workstyles of ​​today's employees. ​​People now work​​ in multiple locations, ​​collaborate across ​​virtual teams, and ​​require environments​​ conducive to innovation​​ and productivity. ​​Organizations need ​​workspaces that can ​​adapt quickly​​ to new initiatives, ​​workflows, and ​​employee ​​preferences.
Our adaptable workplace designs focus on three core principles:
Flexibility – Spaces can be reconfigured easily via movable walls, furniture, and fixtures. Open floor plans allow for modification without major construction.
Variety – Offering spaces for different modes of work like collaboration, focus, learning, and socialization. Environments range from huddle spaces to quiet pods.
Technology – Seamless integration of tech such as video conferencing, digital displays, and productivity software to enable connectivity and collaboration.
Rethinking Workspace Architecture for Adaptable Workspaces
Creating truly adaptable workspaces requires rethinking traditional architecture. Some innovative strategies we utilize include:
Multipurpose workspaces – Fewer single-use areas and more interchangeable spaces that can serve different functions. Large multipurpose rooms can host events, training, or open co-working.
Modular Wall Systems – Quickly repurpose space with demountable partition walls. Go from large training room to miniature conference spaces.
Movable Furniture – Mobile desks, chairs, whiteboards allow teams to reconfigure layouts as needed. Lightweight furniture enhances mobility.
Decentralized Support Spaces – Distributed pantries, copy centers, and supplies allow employees to access amenities from wherever they are working.
BYOD – Support bring-your-own-device with plenty of power outlets, USB charging ports, and Wi-Fi accessibility.
Focus on Shared Spaces – Community spaces such as lounges, cafes, and brainstorming nooks bring people together and support collaboration.
Key Design Elements for Adaptable Workspaces
Certain architectural design elements are essential for creating workspaces that can accommodate continuous change:
Open Floor Plans
Removes visual barriers between teams
Fosters collaboration through easy mobility and communication
Allows for ongoing reconfiguration
Ergonomic Furnishings
Adjustable monitors and chairs provide personalization
Natural Lighting
Floor-to-ceiling windows and skylights boost morale and focus
Exposure to nature enhances productivity and satisfaction
Integrated Technology
Seamless AV, video conferencing, and other collaboration tech
Digital room scheduling screens outside meeting spaces
Sensors for occupancy, air quality, lighting needs
Creative Amenities
Refreshment and lounge areas for casual networking
Recreation zones to unwind and energize
Wellness rooms for private relaxation or lactation space
The Benefits of Designing Adaptable Workspaces
When executed strategically, agile work environment design provides manifold benefits:
Cost Savings – Easier to optimize real estate costs with flexible build-outs and office consolidation.
Employee Experience – Workers are happier and more engaged in spaces supporting diverse workstyles and collaboration.
Culture – Fosters innovation, learning, and productivity with interactive surroundings.
Business Agility – Spaces can evolve rapidly to support entering new markets or organizational changes.
Branding – Unique, design-focused workspaces attract talent and reflect culture.
As you ​​look to reimagine​​ your office environment,​​ our architectural design ​​experts can ​​help envision ​​and create ​​​adaptable workspaces tailored ​​to your needs. ​​We utilize innovative ​​design ​​and ​​layout ​​to deliver maximum ​​flexibility within​​ your budget. ​​Contact Ted Trout Architect & Associates today to get ​​started on a workspace ​​that will augment ​​productivity and ​​position your ​​company for the ​​future.