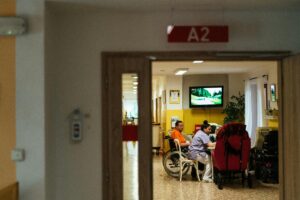 When a memory care unit (MCU) is purpose-built from the start, it can include several features that make it better than a general-purpose health care facility. A properly designed MCU not only provides safety for patients with Alzheimer's and other forms of dementia, but offers comfort and dignity to residents. It also makes it easier for caregivers to provide medical care while allowing them to discreetly keep their eyes on their patients. We've listed some specific design considerations to keep in mind below:
The Safety Element
One of the defining features of advanced dementia is a tendency to wander off. This is dangerous because patients who wander typically can't find their way back, and don't think about things like getting water or food. They are also prone to falling and can easily get hurt. Therefore, it is important to make the facility secure enough to keep patients from wandering away. Additionally, the unit must allow for easy exits in case of a natural disasters.
A secure layout – A good layout for an MCU has clear paths between points of patient interest and avoids confusing warrens of similar-looking hallways. It also has controlled access points that are monitored in real time, so if a patient tries to leave without supervision, he or she can be stopped and brought back to the proper area.
Emergency exit points – There must be sufficient exits as well as a plan for how they are used. The exits must be large enough to accommodate wheelchairs, gurneys, and other patient-moving apparatus.
Effective lighting – One of the biggest causes of falls is poor visibility. A well-designed MCU will have plenty of natural light during the day as well as a generous amount of artificial light when it's dark outside.
Secure outdoor spaces. The MCU's campus needs to have fences or walls to prevent patients from wandering off. It also must be designed to minimize fall risk. Avoid hardscape features that could be tripped over, choose ramps instead of stairs, and make sure the ramps have railings.
Create a Therapeutic Environment
The environment in a memory care unit can provide much more than basic safety. Incorporate specific features to help patients stay calm, keep their bearings, and feel at home. Here are some elements that provide these benefits:
Orientation stations – These areas help patients remember where they are and what the facility is for. They also provide information like the time and date. By putting these stations in architecturally distinct areas, you further help patients remember the stations' purpose.
Color and comfort – Adding distinctive contrast between areas helps jog patients' memories as to where they are in the facility or where they need to go. They might not remember their room numbers, or which wing their room is in, but they may have better luck knowing they belong in a place with a red stripe on the wall or an area with round windows.
Provide a homelike environment – Add plants, safe water features, and outdoor gardens to help patients relax and feel more at home. This helps them avoid depression and agitation. Make sure these features are set up in visible, yet safe, locations.
Use Spatial Design to Enhance Wayfinding
Take care to choose architecture that makes it easier for patients and visitors to find their way around the facility both indoors and out. Then, add features that make each area even more distinctive, so the effects are further enhanced. Here are some design elements to include:
A simple layout. Older inpatient facilities often have a confusing warren of hallways that all look the same. This taxes the brains of everyone who isn't a long-term employee. Someone with dementia has no chance of ever figuring out confusing layouts. Keep the floor plan simple.
Add clear signage. Many dementia patients still remember that reading signs can help them. Put plenty of directional signage everywhere so patients can quickly reorient themselves.
Add other visual clues – Install interior landmarks to jog spatial memories. A big mural in one hall, a distinctive skylight in a common area, or a fountain behind a glass wall in the dining room will be memorable to all but very late-stage residents.
Design for Patients' Changing Needs
As a patients' condition progresses, his or her needs will change. Make sure rooms can easily be adapted to accommodate new or more medical equipment, new safety features, and more or fewer visitors. It's a good idea to dedicate one or more wings of the facility to providing a higher level of care, as well.
Staff Efficiency and Patient Dignity
All too often, patient dignity is sacrificed in the name of efficiency. This can be avoided with thoughtful architectural design. Senior living architecture firms suggest that your MCU include: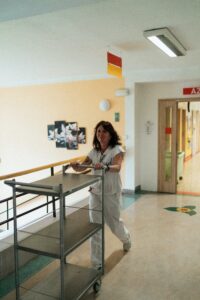 An efficient layout. We've discussed the need for a simple floor plan. Remember to add efficient features to that plan, such as hallways that are wide enough to leave food trolleys outside of rooms without impeding other foot traffic, wheelchairs, or medical equipment.
The design, both inside the rooms and out, should allow for the seamless integration of health care services. Built-in cabinets, purpose-built outlets for connecting equipment, and similar features should be in convenient places everywhere they will be helpful to staff.
Dignity-enhancing room design – If possible, all rooms should be private. If semi-private rooms are a must, provide barriers that block both sight and sound from the other patient. People with dementia are still capable of being embarrassed, and privacy does much to preserve their dignity.
These are some of the top considerations to keep in mind when planning the architecture for a memory care unit. A focus on safety is just the start of the process. By providing features that work with memory patients' limitations, an efficient design for staff, and a nurturing environment for all, your facility can provide a level of care not possible with the old design methods.
For an excellent MCU design, work with our experts here at Ted Trout Architects in Houston, TX. We are one of the area's top professional architecture firms, with several senior living facilities already in our portfolio. Just contact us to get started.